A large amount of debris is generated during construction work (demolished brickwork, concrete pieces, construction debris, etc.), out of which the whole number of things can be suitably reused, especially through recycling in the form of recycled products.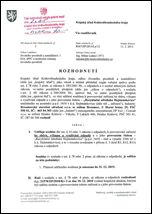 Construction and demolition debris recycling involves a simple treatment during which the physical properties of the debris change. Waste is crushed in the recycling line to fine pieces and further sorted, which makes their reuse possible. The resulting effect does not have to be waste but useful material in the form of a recycled product. Such transformation, recycling, has several positive aspects: The first one is undoubtedly ecology because debris is not stored at a landfill but the produced waste is processed with a suitable recycling method and transformed into a useful recycled product. The second important aspect is taking an approach that is considerate to the environment, which in the case of recycling lies especially in reusing, thanks to which natural resources can be preserved. A recycled product can fully replace commonly used raw material such as gravel, aggregate, etc. The third, also very important aspect, is meeting legal requirements related especially to the Waste Act, which sets prevention of waste creation as the priority in the waste management hierarchy. Broumovské stavební sdružení s.r.o., as an open minded company, considered all of the above aspects and decided to incorporate them into our work.

Are you planning refurbishment, modification or demolition?
Do you not know where to dump generated construction debris?
Do not hesitate to contact us and we will be pleased to help you.


Pursuant to the authorisation by the Regional Authority of the Hradec Kralove Region, we only accept sorted waste free of additives, classified under catalogue numbers:


| | |
| --- | --- |
| 101314 | Waste concrete and concrete sludge |
| 170101 | Concrete |
| 170102 | Bricks |
| 170107 | Mixtures or separated fractions of concrete, bricks, roof tiles and ceramic product not specified under number 170106 |
| 170504 | Soil and rocks not specified under No. 170503 |
| 170506 | Excavated debris not specified under No. 170505 |
| 170904 | Mix of construction and demolition waste not specified under No. 170901, 170902, and 170903 |
| 200202 | Soil and rocks |
Pursuant to an agreement, you may bring construction debris to our recycling centre yourself or we are able to arrange loading as well as transport, including dumpster renting for your construction and demolition waste. It must, however, always be pure debris, not contaminated with other waste or hazardous substances.


Contact person: Miloš Netík, telephone: +420 777 762 306
e-mail: doprava@bssbroumov.cz